I know what a let down it can be to see that you didn't win (believe me, I've done it too) but I didn't forget all of you who participated! I have something special for you too! You can have this blog button for your blog! I would appreciate if it would link back to my blog, but its not neccassary! A HUGE THANK YOU TO ALL OF YOU WHO PARTICIPATED!
REMEMBER, YOUR A WINNER IN MY EYES!
Also, heres the HTML for the button as well: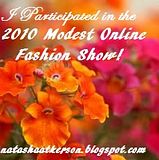 <em><a href=http://www.natashaatkerson.blogspot.com><img src="
<center>
<a href="http://s761.photobucket.com/albums/xx252/4JesusInMT/Backgrounds/?action=view&current=Iparticipated.jpg" target="_blank"><img src="http://i761.photobucket.com/albums/xx252/4JesusInMT/Backgrounds/th_Iparticipated.jpg" border="0" alt="Photobucket" ></a>
</center>
"/></a
</em>